Manage the entire Project Lifecycle, from demand to benefit realization
SHIFT 2 PMO is an end to end framework built on PowerPlatform and Project for the Web to provide you a seamless experience from demand management to project realization. The framework consist on the following modules:
Demand Management
Project Management
Benefit Realization
AI Functions
Assisting in understanding potential risks for your project
Assisting in building your time phased financial plan based on historic or open data sources.

Assisting in building a WBS

Assisting your team members in keeping their project report updated
Demand Management
Maximizing project benefits requires that the projects are delivered the best way but also that you select the best projects.
Selecting the best projects requires an adequate business case and
Are you selecting the best mix of projects to achieve the goals of your organization?
Improve the way projects are proposed, formulated and selected while maximizing benefits.


Project management is about delivering projects in the right way, while demand management is about choosing the right projects to execute.
Over the years we have been perfecting a demand management application built on powerapps to help you manage the complexity of identifying, qualifying, and selecting the right projects.
Our apps supports the following (non- exhaustive):
-Overview the entire portfolio and understand project request per phase.
-Control benefit realization and understand deviations from the business cases.
-Develop portfolio oprtimization per Budget, Strategy and according to Resource Capacity and budget.
–Have a Demand Management model that supports business cases' best practices and your requirements.
-Optional Modules: Advanced budgeting, strategic allignemnt and Risk.
All within Office 365 and integrated with Project Online or Project for the web for project planning and execution.
Build Comprehensive business cases and governance processes adequate to the portfolio risk, with cost, benefits, risk and strategic alignment.
Understand value delivered based on strategic alignment, economic value and risk amongst others.
Demand management runs on your cloud, no data leaves your Microsoft 365 tenant. Minimize change and complexity.
All fields are configurable per request, type and workflow stage. Configurable notifications via email or mobile phone.
Ability to add stakeholders for endorsement.
Attach supporting documents.
Project Management
We have complemented Project for the Web to support some enterprise functionalities, our advanced Project Management Framework supports the following functionalities (not exhaustive):

-Ability to save baselines

-Ability to take snapshots
-Ability to handle costs from budget to actuals, per cost type and time phased information linked to Project milestones (For forecasts).
-Project Dependencies
-Stakeholder Management
-Project Government
-Requirements -Risk & Issue
-Lessons Learned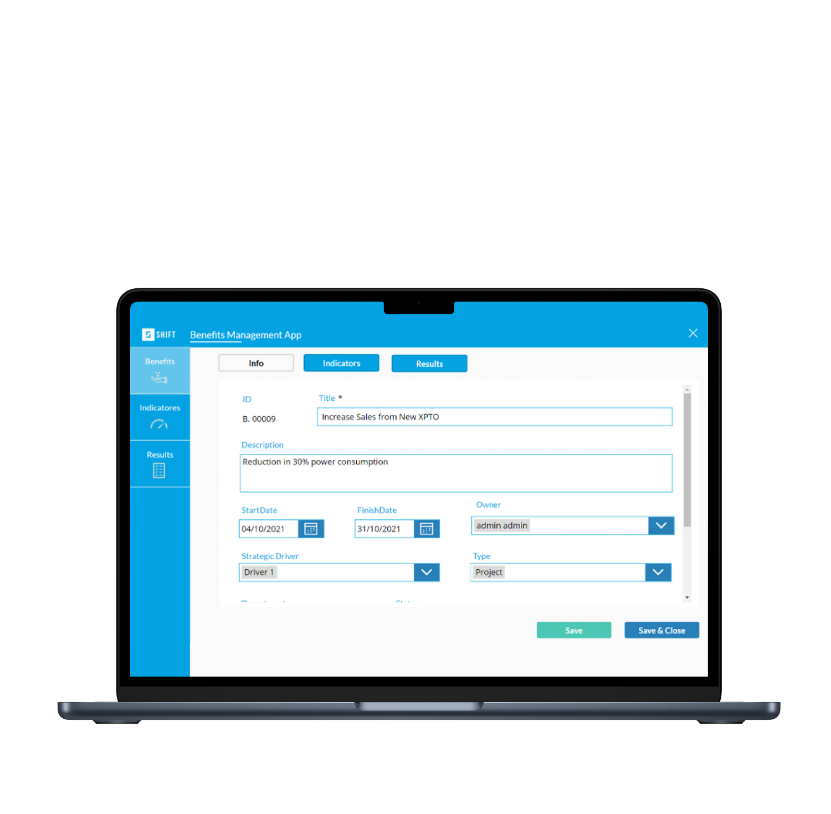 Map benefits from your business cases!
Report actuals from existing systems, or manually and register deviations.

Ability to define one or more KPIs per project request

Ability to map thresholds per KPI

Ability to plan and report actual value per KPI for periods

Analyse deviations in a PowerBI Dashboard

Ability to integrate with external systems (to analyse case by case)
Promote a healthy environment for ideation and innovation in the organization.
Guarantee Compliance by supporting governance and internal policies.
Continuous improvement by planning benefits and understanding of the goals were met or not and why.
 Generate the right expectations through realistic plans and risk management
Promote accountability by assigning people and results to tasks and benefits.
Want to know more?

Download our One Pager here